Norwich boxer Jon Thaxton's missing belt recovered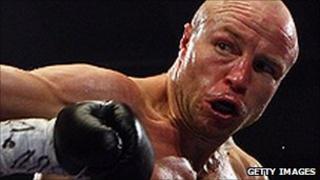 A Norwich boxer's European Title belt, which went missing during a celebration dinner at a hotel, has been recovered.
Boxer Jon Thaxton was attending his testimonial event at the Holiday Inn at Norwich Airport on Saturday night when the belt went missing.
Mr Thaxton had been joined by stars from the football and boxing world, including former World Champion Ricky Hatton.
Mr Thaxton said Norfolk Police had told him they had located the belt.
He expects to get it back on Wednesday.
On Sunday Mr Thaxton had appealed for information about the belt and said he was "gutted and disappointed" over its disappearance.