Man gets life for double murder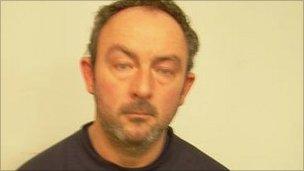 A man who murdered his ex-girlfriend and her new partner in a jealous rage has been jailed for life and told he must serve at least 30 years.
John Moody, 45, of Norwich, repeatedly stabbed 39-year-old Karen Brown and Kenneth Snell, 65, at Mr Snell's home near the city on 31 October 2009.
Moody had denied murder though he admitted manslaughter on the grounds of diminished responsibility.
A jury at Norwich Crown Court took just two hours to convict him on Thursday.
Jurors did not accept arguments from Moody's defence team that he had been suffering from an abnormality of the mind at the time of the killings.
He repeatedly stabbed the couple in a frenzied attack within hours of learning about their relationship.
The court heard that Moody, of Kerrison Avenue, "lost his self-control" and drove to Mr Snell's home armed with a hammer and knife.
He smashed through the front door and attacked Ms Brown while repeatedly shouting: "Why did you lie?"
The jury was played recordings of the 999 calls made by Ms Brown and Mr Snell.
Ms Brown was heard to say: "I have got an intruder who is violent, who is aggressive. I don't know who it is."
She then shouted the name "John Moody" twice and was heard to say: "You don't want to do this, do you? Not really."
Moody was heard saying: "Tell me why you lied" more than 50 times as groaning sounds and yelps of pain are heard in the background.
Speaking after the case, police said Ms Brown and Mr Snell had seen each other in secret due to Moody's history of jealousy and violence.
He and Ms Brown had been in a troubled 12-year relationship, which she ended in 2008.
They used to run the sandwich shop Baguette Express near Norwich Market.
Ms Brown's family released a statement via police, describing her as an "angel" and "a light in everyone's life".
"Karen was a wonderful, caring and loving daughter, sister and auntie, who was prematurely taken from us by a cold-hearted killer.
"She had at last found happiness with Ken after years of torment and was rebuilding her life."
The family of Mr Snell described the murders as "the most heinous crime imaginable".
They also said their sympathies were with Moody's children and family, "who are very much victims in this atrocity".
"We will now try to move our lives forward and say our final farewells to a brother, father, grandfather and friend who was the most gentle, loving and adored person," the family statement added.
Related Internet Links
The BBC is not responsible for the content of external sites.