Security guards patrol buses to stop rowdy teenagers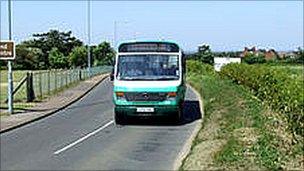 A bus firm in Norfolk has said it has decided to employ security guards for a week on some of its services to stop rowdy behaviour by teenagers.
Norfolk Green managing director Ben Colson said he had employed police-accredited security guards to patrol buses and bus stops.
He said he thought some of the offenders involved were taking the bus to travel to Hunstanton Tennis Week.
He said his drivers should not have to deal with bad behaviour.
Mr Colson said services during the late afternoon and early evening services from Hunstanton to Brancaster and Burnham Market were particularly badly affected and these services were being marshalled.
No-one from Hunstanton Lawn Tennis Tournament was available for comment.
Related Internet Links
The BBC is not responsible for the content of external sites.