Study of rural historic schools in Norfolk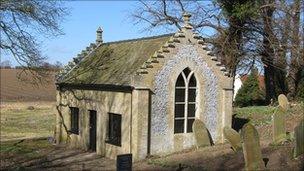 The surviving Victorian and Edwardian school buildings of rural Norfolk are to be explored and recorded during a two-year study.
The survey by the University of East Anglia (UEA) and the Norfolk Historic Buildings Group aims to document the 400-plus buildings in the county.
It will look at the historical and architectural significance of primary schools and former primaries.
The work has been funded by a £50,000 grant from English Heritage.
Dr Adam Longcroft, a senior lecturer in the School of Education and Lifelong Learning at UEA, said: "Most schools were enlarged several times so we want to find out what form these changes take and what this tells us about the changing requirements for schooling.
"This project aims to make a significant contribution to academic research in the field of rural and social history, and the history of education."
The major period for the building of rural schools followed the foundation of two voluntary societies - The British and Foreign School Society in 1808 and the National Society for Promoting the Education of the Poor in 1811, the UEA said.
The survey will look at whether there is a typical style associated with the year a school was built or the promoters or patrons of the schools concerned.
It will also examine what this shows about the money available to, and the aims of, the founders as well as the changing methods of delivering education.
Detailed records will be made and photographs taken of the structures, some of which have long-since been converted to residential use.
Elain Harwood, English Heritage architectural historian, said: "With imagination and the better understanding of their characteristics that this study will bring, most of these fine buildings can be adapted and put to a wide range of other uses."
The project will result in a major exhibition at Norfolk Record Office and a conference at UEA.
Related Internet Links
The BBC is not responsible for the content of external sites.