Man who stabbed Dirty Sanchez's Pritchard jailed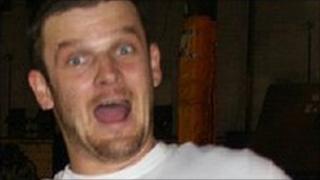 A man has been jailed for five years for stabbing a star of the MTV show Dirty Sanchez.
Mark Edward Smith, 43, was found guilty on 13 August of wounding Matthew Pritchard, 37, with intent to inflict grievous bodily harm.
He lashed out with some car keys after Mr Pritchard, from Cardiff, pushed him out of a shop in Dereham.
Smith of Charles Close, Toftwood, near Dereham, was sentenced at Norwich Crown Court.
Mr Pritchard, who needed 20 stitches after the attack, is one of the presenters of Dirty Sanchez.
The four stars of the programme take part in dangerous stunts on the show.
The court was told Mr Pritchard threw Smith out of the store for being abusive towards staff when he tried unsuccessfully to cash a giro cheque without identification.
Smith admitted in court that he had been "obnoxious" in the Co-Op in Toftwood.
He said: "I had recognised Mr Pritchard and thought my life was at risk after seeing what he does on TV.
"I had no intentions of hurting him."
Prosecuting lawyer Phil Charnley said: "We are pleased this case has reached a successful conclusion.
"In his attempts to defuse a violent situation Mr Pritchard ended up being scarred for life, and he is lucky he didn't suffer more serious injuries.
"We would like to thank him and the other witnesses that came forward to assist in the prosecution.
"We now hope that Mr Pritchard can move forward from this incident."