Clues found in North Norfolk seal death mystery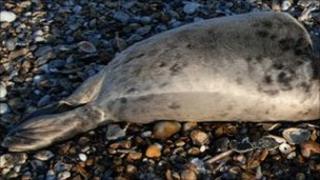 The deaths of seals found washed up on the North Norfolk coast were caused by a boat's propeller, it has been discovered.
So far 39 common and grey seals have washed up in Blakeney, Morston and Wells since November.
The animals all suffered laceration-type injuries and post-mortem examination results show they were killed by a ducted propeller.
Scientists are now trying to find the boat and where it is travelling from.
The National Trust, the Norfolk Wildlife Trust and the National Wildlife Crime Unit are among several other agencies helping Norfolk Police try to discover what happened to the seals.