Norwich City Council draws up Connaught repair plan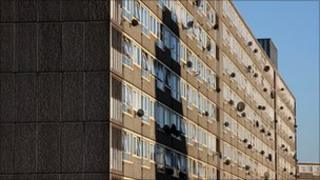 A council in Norfolk says it is drawing up a plan to ensure bin collections and repairs continue after a company it uses was put into administration.
The jobs of hundreds of Connaught employees contracted to work for Norwich City Council are at risk after it failed to plug its £220m debt.
The council said it would arrange for another contractor to do emergency repair work if Connaught is unable to.
It is also in urgent talks with the administrator KPMG, it added.
Council leader Steve Morphew said: "Our expectation is that bins will continue to be collected, streets cleaned and grass cut, and plans are in place to see that genuine emergency housing work is prioritised.
"I have ensured that quick and appropriate measures have been taken to make sure emergency work continues to be carried out and our vulnerable tenants and residents are protected.
"We have asked our staff and councillors to be our eyes and ears and alert us to any genuine emergencies that need immediate attention.
"Clearly this is a difficult situation and I would ask residents to be patient and bear with us as we identify the best solutions."
Connaught Partnerships employs 4,400 people across the UK. It said KPMG hoped that the "majority of staff will be transferred to alternative providers".