Prolific burglar from Norwich targeted elderly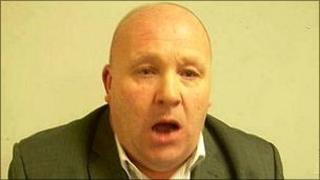 Named by police as one of the most prolific distraction burglars in the country Neil Seagrave targeted elderly women across England.
From his home in Norwich he travelled as far as Manchester and Humberside to find his victims.
All of them were women aged 76 to 96, most of whom lived on their own.
Some of them lost thousands of pounds to the 49-year-old who posed as a policeman or electrician to trick his way into their homes.
One of his victims, 91-year-old Alice Viner from Norwich said he seemed like "a normal man".
"He had this gadget thing (which he) plugged in and then it was supposed to light up when he touched my windows to see if they were fool-proof."
Seagrave got his victim to help with his "checks" whilst he searched their homes for money.
On some occasions he would steal thousands of pounds and one victim in her 80s lost £5,000 to Seagrave.
It was money she had saved to buy her grandson prosthetic legs.
Police said the money Seagrave stole did not go to his wife and two children.
Instead, it funded gambling and hotels while he travelled the country.
"He wouldn't go to a hotel and book just a room, he'd have the whole suite," explained Sgt Dave McCormack of Norfolk Police.
"He's lived this life of luxury and when we go through his financial statements we can see he's lived better than some pop stars.
'Callous but ingenious'
"But he's spent the money, so we can't get it back."
Sgt McCormack described Seagrave as "callous but ingenious" because of how he found his victims.
He would look up details of potential victims on the electoral register.
When he found addresses that were homes to elderly women, he would target them.
Police said officers had been working with electoral roll websites and systems are now in place to flag up suspicious search patterns in the future.
Seagrave was finally caught in January 2010, shortly after committing a distraction burglary in his home city of Norwich.
He was unaware that his crimes were being investigated by Operation Liberal, the national distraction burglary intelligence unit.
'Bright man'
"Neil Seagrave tried to hide behind the fact that by moving from police force to police force across the country he'd evade capture," said Det Sgt Mark Seage.
"Thankfully we were able to identify this crime trend quite early."
Seagrave, who was jailed for similar crimes in 2003, later admitted 101 offences.
Police say they do not know how much he managed to steal, but believe it was tens-of-thousands-of-pounds.
He has now been jailed for 11 years at Norwich Crown Court.
It is the news his victims, like Alice Viner, were waiting for.
"It's a waste of a bright brilliant man," she said.
"He could've turned all that knowledge to something good."