Norwich council's temporary work for Connaught staff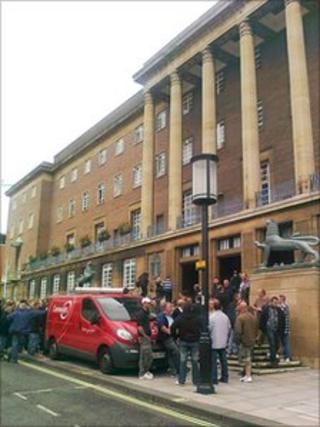 Connaught workers made redundant when the contractor collapsed could be given temporary work by Norwich City Council.
On Monday administrators KPMG announced 300 jobs would go at Norwich City Council as part of the 1,400 posts lost across the country.
The council has now awarded emergency temporary contracts as part of its contingency plans, a spokesman said.
All companies awarded the contracts have been asked to give preference to former Connaught workers.
'Only a start'
Gas servicing will be provided short-term by Ward & Rooney Heating Ltd, and Ashford Commercial Ltd has taken charge of window replacements.
Connaught Compliance will cover emergency electrical and mechanical work.
The council said it would be employing former Connaught workers to staff its customer contact centre to help deal with calls from people about the contractor going into administration.
Earlier maintenance firm Morrison called for urgent talks with the council to help protect the jobs.
A spokesperson for Morrison said: "Morrison is eager to resume urgent dialogue with Norwich City Council and trusts that immediate steps can be taken to safeguard the... jobs lost by the collapse of Connaught."
But in a statement the council said Morrison had not contacted the administrator as protocol dictates.
Councillor Steve Morphew, leader of the council, said: "We accept this is only a start, but we are doing as much as we possibly can to keep services running for our tenants and residents and to support Connaught staff affected."
On Monday when the job losses were announced, it was also revealed that another 200 Connaught employees working in Norwich had been told their jobs were safe.
Norwich City Council was one of Connaught's largest local authority clients.