Thousands of chickens die in shed fire on Norfolk farm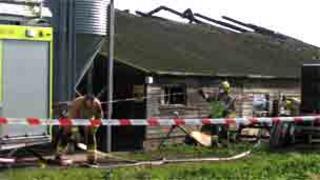 About 15,000 chickens died when their shed on a farm in West Norfolk caught fire.
Firefighters were called to Walton Highway between King's Lynn and Wisbech in the early hours.
Crews had to take special care as the the roof contained asbestos and there were fears chemicals were stored in the shed.
An investigation into the cause of the fire has begun but it is not yet safe enough for firefighters to enter.
Stuart Horth, area manager for the fire service, said: "We will not enter the building yet because it is structurally unsound and we do not go in where there is asbestos.
"It is a tragic incident. We care a lot about animals in these situations and passionately about people and it is always distressing.
"We are in the early stages of the investigation into the cause of the fire and are dealing with the incident to prevent further damage."