Great Yarmouth man 'murdered by blackmail targets'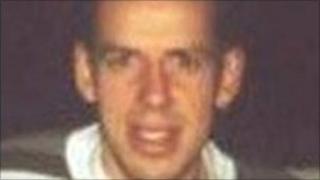 A man whose body was found in a ditch in Norfolk was murdered by two men he was blackmailing, police believe.
An inquest in Great Yarmouth found Derick Tempest, 30, was unlawfully killed. The verdict led Norfolk Police to reveal their belief he was killed by James Hall, 60, and Andrew Ventham, 49.
Mr Tempest disappeared on 28 October last year after visiting a garage owned by Mr Hall in Camden Road.
Mr Hall and Mr Ventham were found dead in the building on 2 November.
It is suspected they died of carbon monoxide poisoning.
Extortion plot
After the inquest in Great Yarmouth, police revealed they were closing the investigation into Mr Tempest's death.
In a statement, Norfolk Police said: "Information gathered during inquiries has led detectives to believe that Mr Tempest was murdered by Mr Ventham and Mr Hall before they took their own lives.
"As a result the investigation into Mr Tempest's death is being closed."
Mr Tempest had been sexually abused by the two as a boy, his friends told the inquest in Great Yarmouth.
He used this information to extort money from them, they said.
Mr Tempest's body was found in marshes near Great Yarmouth on 16 April.
Abuse claim
The inquest was told Mr Tempest, from Great Yarmouth, found out the men had continued to abuse children, but rather than go to the police, he blackmailed them.
At the end of hearing, Norfolk coroner William Armstrong said: "It has been a sad, sorry and sordid story that has unfolded."
He heard evidence from Sarah Sherfield, the girlfriend of Mr Tempest, about how he had told her he had been "interfered with" by two men - who turned out to be Mr Hall and Mr Ventham.
In October last year when Mr Tempest went to see the men, he saw two boys and one of the men was dressed only in boxer shorts, the inquest heard.
He went round again the next day and asked for £1,000, saying it would stop him going to the police.
They gave him the cash and in mid October he was given another £800.
'Serious harm'
The day Mr Tempest was last seen, he told friends he was "going to the garage to get some money".
It is not known what happened inside the garage, but police have revealed they believed that Mr Tempest had come to "serious harm" there.
Mr Tempest's body was found with a rope around the waist, and a 15kg car brake drum tied to that.
Due to the decayed state of his body, it was impossible to tell how he died.
The hearing was told that no-one had told police about being abused by Mr Hall and Mr Ventham.
Mr Armstrong said with the rope around the body and the blackmail evidence, he had overwhelming evidence to give an unlawful killing verdict in the case of Mr Tempest.