Council scraps Connaught job plan for Norwich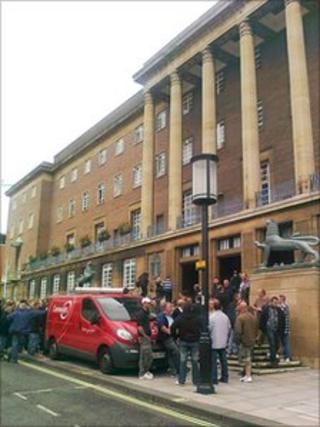 A deal to safeguard most of the jobs which were lost in Norwich when council contractor Connaught went into administration has been scrapped because of potential legal issues.
A firm was ready to take over the Norwich City Council contract, but lawyers said the deal could be challenged in court.
Temporary contracts for housing repairs and maintenance will now go to tender.
Until then services will be provided by emergency contracts already in place.
The contracts being put out to tender will run for between nine and 12 months and the council expects those to be up and running by the end of November.
Last week a contractor reached an agreement in principle with the council to have the housing repairs and maintenance contract transferred to it.
This could only be done at the same price and contractual terms and conditions as agreed with Connaught
'Ring-fence jobs'
This would have got the vast majority of former Connaught workers back to work.
The company involved had agreed to "ring-fence" the jobs to give those made redundant the first opportunity to apply.
However, the council received legal advice from a barrister which warned "of the significant risk of a legal challenge if the council were to transfer the housing repairs and maintenance contract without going to tender".
Alan Waters, cabinet member for corporate resources, said: "This is hugely frustrating for us because the money is there to improve tenants' homes, the work is there and the workforce is ready to do it, but we cannot go ahead with a common sense solution."
Connaught called in the receivers earlier in the month with the potential loss of 1,400 jobs.