Survey of landmark railway bridge in Great Yarmouth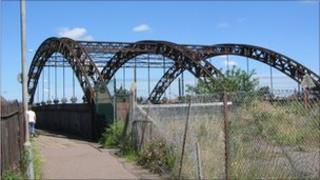 An inspection of a disused railway bridge in Great Yarmouth, which has become a town landmark, is taking place to find out the costs of restoring it.
The £30,000 survey of Vauxhall Bridge, which starts next week, will look at the condition of the structure.
The work will include ultrasound examination, testing of materials and a 3D laser scan to establish the bridge dimensions.
The survey should be completed within two weeks.
The nearby footbridge was closed recently because of problems with the timber deck and will also be inspected.
The work is mainly funded by Norfolk County Council but with contributions from other groups such as the Runham Vauxhall Fair Share Trust.
Nearly £300,000 has been earmarked for Vauxhall Bridge and surrounding area by the Fair Share Trust.
The extent of the refurbishment will depend upon the inspection findings and what is affordable.