Ukulele revival embraced by City of Norwich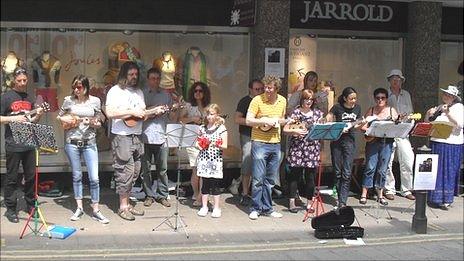 Ukuleles are quickly becoming the "cool" instrument with the worldwide success of the Ukulele Orchestra of Great Britain and ukes appearing in popular television dramas such as Skins and on tracks by successful indie bands such as Noah and the Whale.
The instrument has also made huge inroads into education with many schools across Norfolk abandoning the recorder in favour of the uke.
In Norfolk, the revival has been embraced by the Norwich Ukulele Society - which meets every other Sunday afternoon at the The Ten Bells pub in St Benedict's Street in the city, and performs throughout the county.
Gemma Cullingford, co-founder of the society who also teaches the ukulele, used to be a member of Norwich indie band KaitO.
She told me how she had got interested in the uke: "I had played bass guitar for years, but started to lose my passion in music. I was getting fed up with lugging a big heavy bass guitar and amp around.
"I had thought about learning something new, but wasn't sure I could commit the time and money that goes with learning a new instrument.
"Then I was out with a friend and he pulled out a ukulele from nowhere and played a little tune on it. It sounded so lovely and sweet that I went out the next day and bought my own for £20."
She gradually fell in love with an instrument which she says "never fails to put a smile on the player's face".
Gemma formed the Norwich Ukulele Society earlier this year with friend Amy Wragg earlier in the year and it has gone from strength to strength playing festivals, fetes and pubs across the city and county.
Gemma said the group plays everything from "Johnny Cash to Kylie, Minogue, Tom Jones to the White Stripes".
"It is diverse so that there is something for everyone," she added.
They recently organised the Norwich Ukulele Festival and Gemma hopes it can be bigger and better next year.
One of the highlights of the year was an appearance on stage in King's Lynn with the Ukulele Orchestra of Great Britain - which recently shared the stage with the Kaiser Chiefs at the Royal Albert Hall.
"At our very first meeting, one of our members Mac mentioned about the fact that the UOGB were playing in King's Lynn later in the year," she said.
"Next thing we knew he had written to them with a cheeky request asking if we could join them on stage for a song.
"George Hinchcliffe who founded the Orchestra replied and invited us to go on for a stage invasion at the end. So we jumped on stage with them to play the Clash's 'Should I Stay or Should I Go'. It was a great experience that I don't think any of us will forget for a while."
Gemma, who gives lessons on the ukulele, said it is a great instrument for young people to learn.
"The fact that it's so fun to learn makes it addictive to play. Playing with others is really good motivation too, I would love to set up some little groups or orchestras for youngsters," she said.
Her advice to would-be ukulele players is: "Just do it! Don't be scared, anyone can do it. You will be so happy you learnt it."
The Norwich Ukulele Society meets up every other Sunday at The Ten Bells in Norwich between 1700 and 1900 BST. There are also workshops before hand at 1615 BST or anyone that feels they would like to go over the songs more slowly.
The Society is playing the Norwich Beer Festival at lunchtime on 29 October.
Related Internet Links
The BBC is not responsible for the content of external sites.