Labour candidate sorry for 'worst PM ever' remark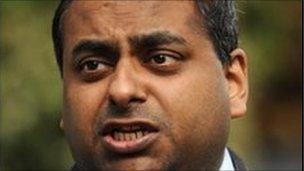 A candidate in Norfolk who described Gordon Brown as the "worst PM ever" in the run-up to the general election has apologised to the Labour Party.
Manish Sood was suspended by the party when he spoke out just days before the May election.
He had called Mr Brown "incompetent" and said he did not "know what he was talking about".
Mr Sood, who lives in Leicester but was standing in the North West Norfolk constituency, came third in the seat.
He has now officially apologised in writing and said he hoped to resolve his membership status and the situation.
The party is now considering his letter.
Related Internet Links
The BBC is not responsible for the content of external sites.