Snake trapped in owner's bangles in Buckinghamshire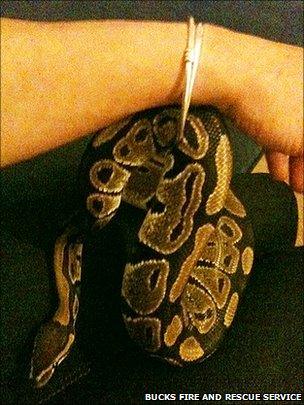 A snake owner from Buckinghamshire needed help from firefighters after her royal python slithered through bangles on her wrist and became trapped.
Sam Brooks, 40, arrived at Amersham Fire Station on Wednesday with the 4ft 6in (1.36m) snake attached to her arm.
Crew manager Kieron Hall said he released the snake called Prince, which had become trapped while being handled by its owner, using a ring-cutter.
Both the snake and its owner were unharmed during the incident.
"She knocked at the door, showed me what had happened and said she knew it must look as if Halloween had come early," said Mr Hall.
"The first question I asked was, 'is the snake venomous?'
"The answer was no. I also asked if he was likely to bite me, and again the answer was no."
Miss Brooks, who has had the snake for four years, told the BBC: "This is madness. I had my two children and niece and nephew over and they wanted to see the snake.
"They were stroking him and then just as I was putting him away he suddenly moved his head between the bangles and was completely wedged in."
Miss Brooks, who lives in Amersham, said she hoped the snake would get out on its own, but after 10 or 15 minutes she decided to go to local fire station.
She praised the fire service for their help in releasing the snake.
She added: "I won't be wearing bangles when I'm handling the snake again. It's not the sort of thing you want repeating."
Related Internet Links
The BBC is not responsible for the content of external sites.