Norfolk parson's Wuthering Heights goes for £163,250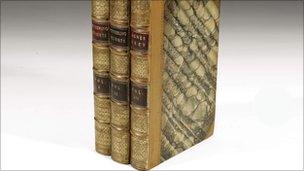 A first edition of the novel Wuthering Heights formerly owned by a Norfolk parson has been sold at auction for £163,250.
Described as "very rare" by London auctioneers Sotheby's, it was expected to fetch between £50,000 and £75,000.
The three-volume edition was once owned by Rev Nathaniel Micklethwait, who lived at Coltishall Hall.
There is no information about the buyer of the book, written by Emily Bronte in 1847.
Mr Mickelthwait's name was written in the book.
Also at the auction, a first edition of Black Beauty - written by Norfolk-born Anna Sewell - sold for £6,875. It had been expected to fetch between £3,000 and £4,000.
Sotheby's auction catalogue described it as "an unusually fine copy".
Sewell wrote Black Beauty between 1871 and 1877 when she was living at Old Catton, near Norwich.
Related Internet Links
The BBC is not responsible for the content of external sites.