A47 Mattishall roundabout congestion relief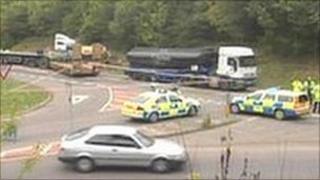 Commuters will face less congestion on the A47 in Norfolk now funding has been secured for part-time traffic signals, steering group the A47 Alliance said.
A roundabout was built near Mattishall in February 2009 after fatal crashes.
However it causes long tailbacks when commuters travel from the Dereham direction to Norwich.
The Highways Agency has secured funding for the traffic signals which should be installed by March 2011, the A47 Alliance said.
The roundabout on the A47 at Honingham was completed after a judge demanded safety improvements following three fatal crashes in five years.
'Good news'
Norfolk County Council said it had received many complaints that nearby villages were being used as "rat-runs".
The lights were proposed by the Highways Agency.
Councillor Graham Plant, chairman of the A47 Alliance, said: "While we all know that the complete dualling of this length of carriageway is required we very much welcome this good news.
"The A47 Alliance has been pressing the Highways Agency to ameliorate the problems experienced in the adjacent villages since they first became apparent."
The A47 Alliance has representatives from Norfolk County Council, Cambridgeshire County Council and all district authorities along the route.