Three dogs kill cygnet in Whitlingham Park near Norwich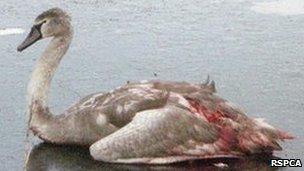 A cygnet has been put down following an attack by three dogs in a Norfolk park.
The RSPCA was called to Whitlingham Country Park in Trowse, near Norwich, on Sunday where witnesses saw the young swan being "torn apart" by the dogs.
When the cygnet was freed from the ice it had become stuck on, inspectors discovered its wing was badly damaged and its intestines were hanging out.
Witnesses to the attack said two greyhounds and Doberman attacked the swan while a man stood nearby.
The RSPCA said a vet could not treat the animal and it was put down.
Insp Emily Bottomley said: "Once we managed to get the cygnet to the bank we realised just how shocking its injuries were.
"It was so upsetting that, after trying to rescue this poor bird, we could do nothing to help it - the injuries were so severe.
"The swan suffered unimaginable pain and distress throughout its ordeal and it was put through this just because someone did not keep their dogs under control."
Norfolk Police said they were working with the RSPCA to find out who was responsible for the attack.
Related Internet Links
The BBC is not responsible for the content of external sites.