Plea for help over seal bodies found on Norfolk beaches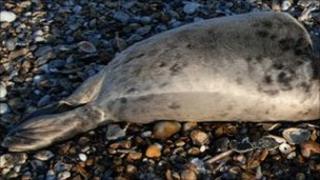 The deaths of four seals are being investigated after their bodies were washed up on north Norfolk beaches.
Three of the seals found dead in December have similar laceration injuries as 41 seals washed up in 2010.
The Marine Management Organisation (MMO) said it is looking into all 45 deaths and wants people with information to come forward.
Injuries on the fourth body are unconfirmed as the animal is still being examined.
Neil Wellum, head of marine conservation and enforcement at the MMO, said: "We are keeping an open mind on all possible causes as we collect information from as many sources as possible.
"We would welcome any information from residents around this area of coastline as part of our ongoing investigation."
The MMO said it is working with Norfolk Police, the Sea Mammal Research Unit, Natural England, the Eastern Sea Fisheries Joint Committee and others during the course of the investigation.