Norfolk headteacher backs classes of 70 pupils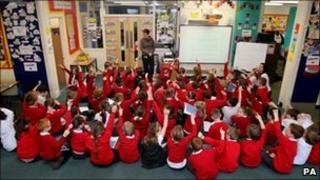 The headteacher of a junior school in Norfolk said pupils had benefited from being taught in classes of 70 pupils.
John Starling, head of Bure Valley School in Aylsham, has grouped all Year 3 pupils into a class of 70, with two teachers and three teaching assistants.
Mr Starling said the team-teaching approach was working and planned to extend it to other school years.
He said children had been monitored in the first year of the scheme and had doubled progress of previous years.
Year 4 pupils are also taught in a class of 60, with two teachers and two teaching assistants.
'Outstanding' work
Mr Starling said staff were able to work closely with specific groups of children within classes and teachers benefited because they had colleagues in the same room.
He said: "Teachers are enjoying it... and it's particularly good for newly-qualified teachers because they have an experienced colleague on hand."
Nigel Daniels, whose seven-year-old daughter is in Year 3, said the super-size classes seemed to be working well and his daughter was doing well at school.
Ofsted inspectors rated the school "good" following an inspection in October last year and said some aspects of the school's work were "outstanding".
A report said changes to the way children in Years 3 and 4 were taught had been "instrumental" in improving the quality of education.