Newspaper print jobs in Norwich under threat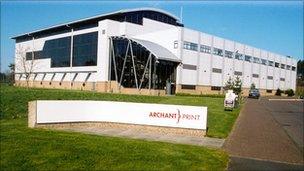 The jobs of 50 workers at a newspaper printing works near Norwich are under threat.
Archant Print, which produces four daily papers and about 60 weekly titles, said it wanted to save money by using contract printers.
About 100 staff work a multiple shift pattern, six days a week at the firm's print centre at Thorpe St Andrew.
The company wants to change that to a single night shift and halve the workforce there.
Archant Print's managing director, Nick Schiller, said: "We keep costs constantly under review and the very substantial 20% increase in the cost of newsprint and ink in 2011 has further emphasised this need."
Newspapers from Norfolk and Suffolk would continue to be printed at Thorpe St Andrew but weekly titles from London, Kent, Hertfordshire, Cambridgeshire and the south-west of England would be printed by a third party to save on transport and other print-related costs.
Mr Schiller said: "Single shift use of printing plants is commonplace in the UK and if this proposal proceeds, it would ensure we retain a strong regional press centre in Norwich to support all our East Anglian daily and weekly titles."
Related Internet Links
The BBC is not responsible for the content of external sites.