Rebuild for stopped Norwich City Hall clock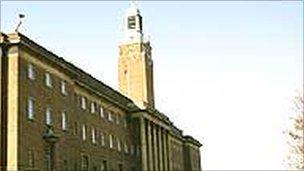 The clock on Norwich City Hall is to undergo a complete rebuild after a series of repairs failed to keep it going.
The four-faced clock stopped in cold weather last year and the city council has decided to bring in a specialist to rebuild it.
This is expected to take four weeks and will cost £13,000, a spokeswoman said.
"It was believed lubricant had frozen but closer examination revealed deeper problems with the mechanism," she said.
The spokeswoman said Simon Michlmayr, a Swiss-trained watch and clockmaker, will oversee the project.
Alan Waters, cabinet member for resources, performance and shared services, said: "The clock is one of Norwich's landmarks and a familiar sight to anyone who lives and works in the city."
The clock tower was built in 1938 and is part of the Grade II listed City Hall.
It was originally intended to be visible from any part of the city.
Related Internet Links
The BBC is not responsible for the content of external sites.