Comic Relief: David Webster's stand-up comedy show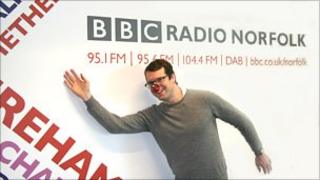 Can you imagine anything more terrifying than standing on stage trying to make people laugh?
That's the challenge BBC Radio Norfolk's fearless David Webster has taken on - and he wants your support!
For Red Nose Day he'll be raising money - and hopefully a few laughs - by learning the ropes of comedy, writing a routine, then performing it live.
His Stand Up for Comic Relief routine will then take place on 9 March 2011 at Bury St Edmunds' Apex venue.
The event will also feature BBC Look East's Jenny Kirk and other favourite BBC Local Radio presenters from around the East of England.
"This is terrifying me - I really don't want to die on stage. I tried it when I swam the English Channel and didn't enjoy it much," said David.
"My biggest fear is the heckler, but I've been told that the promoter will be right behind me... in the green room.
"Mind, when you hear what some people have to cope with in the UK and in Africa, standing on stage for ten minutes pales next to those stories.
"It's a fantastic cause and what's the worst that can happen..."
To ensure David gets belly laughs instead of belly flops, he will be heading to London on 4 March to be put through his paces at a special comedy boot camp.
He is guaranteed to get the best start with tips from top comedians including Jo Brand, Hugh Dennis and Mark Watson.
You'll be able to follow David's progress on BBC Radio Norfolk and by bookmarking this website.
Tickets to the stand-up event on 9 March will be available to purchase through The Apex website or on 01284 758000 from 15 February 2011.
They will cost £10 each, of which £6 will go to Comic Relief.
You can support David in his stand-up quest by texting "NORFOLK" on your mobile to 70011.
Texts cost £1 plus your standard network message charge. £1 per text goes to Comic Relief. You must be 16 or over and have the bill payer's permission. See here for full terms and conditions (pdf).
For more information on Red Nose Day 2011 in Norfolk, visit here.