King's Speech voice coach 'proud' of Firth's stammer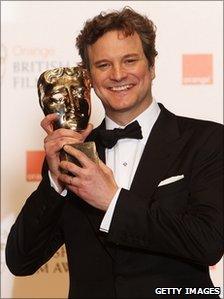 A voice coach from Norfolk is winning plaudits for his role in helping Colin Firth play King George VI in the Bafta award winning film The King's Speech.
Norwich-born Neil Swain helped Firth perfect the stammer that the future monarch battles in the film.
"All of us are very proud of it. It's a great story and it's wonderfully acted," said Mr Swain.
The King's Speech won seven Baftas and Mr Swain's work was recognised in the acceptance speeches.
Firth thanked the team behind the film, including a reference to his "masterly voice coach Neil Swain" while accepting his Leading Actor Award.
He went on to thank him for "indulging our incurable dependence on him".
Mr Swain became involved in the film after Helena Bonham-Carter, who plays the Queen Mother, recommended him to director Tom Hooper.
"I really got the job because of Helena," said Mr Swain.
"She sent me the script and said, 'Have a read of it and see what you think,' so I did and it was a great script."
Bonham-Carter has previously worked with Mr Swain on projects including Sweeney Todd and Alice in Wonderland.
"We just get on, we have a lot of laughs," he said.
Despite sweeping the boards at the Baftas on Sunday and being hotly tipped for Academy Awards success, Mr Swain said The King's Speech relied heavily on the goodwill of all those involved.
"For a film of that style and type it was quite a small budget," he said.
"Since funding has been cut to the film fund, it is a film that could only really be made with a lot of goodwill from a lot of people."
Mr Swain has worked as a voice coach with many well-known actors and his credits include Atonement, Hot Fuzz and The Boat that Rocked, but he admits that he was amazed by the talent involved in The King's Speech.
"I used to joke with friends - I'd look in my diary and Monday morning would be Derek Jacobi and Monday afternoon would be Michael Gambon," he said.
"Tuesday would be Colin and in the afternoon it would be Geoffrey Rush. It was ridiculous the acting aristocracy that I was working with."
Related Internet Links
The BBC is not responsible for the content of external sites.