Yarmouth industries urged to link-up with Venezuela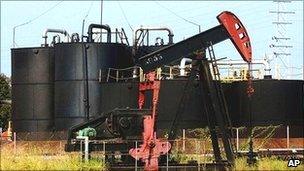 Companies in Great Yarmouth are being encouraged to do business with the Venezuelan oil industry.
A representative from UK Trade and Investment (UKTI) visited the seaside town to discuss developing links with the the South American country.
"They can win business and that will help save jobs in the region," said Haden Spicer, a representative from the British Embassy in Caracas.
Venezuela has one of the world's largest oil reserves.
"There's a big push in the UK to try and export our way out of the current economic downturn," said Mr Spicer.
"A lot of embassy staff around the world on the trade side are visiting the UK to try and encourage companies to export to various parts of the world.
"Venezuela is a huge oil and gas market and Great Yarmouth has got some great oil and gas capabilities."
Despite the size of the country's reserves, the Venezuelan oilfields are well-used and Mr Spicer believes UK engineering expertise can help them recognise their further potential while also boosting the UK's economy.
"Four out of the five companies that we've spoken to are interested in taking out some research about the Venezuelan market and seeing what the opportunities are."
Related Internet Links
The BBC is not responsible for the content of external sites.