Residents overwhelmingly reject King's Lynn incinerator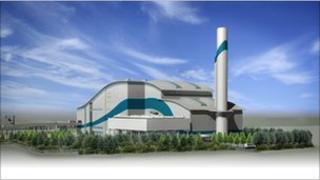 Residents in a west Norfolk referendum have overwhelmingly rejected a plan to build a waste incinerator.
More than 92% of those taking part in the poll voted against the proposal and the turnout was more than 61%.
The question was: "Do you support the construction of a mass burn municipal waste incinerator on the Willows Business Park, Saddlebow, King's Lynn?"
Total votes cast were 70,763 out of 115,382 eligible voters and 65,516 said "No" to the scheme.
The poll was across the Borough of King's Lynn and West Norfolk.
Some 5,173 people supported the incinerator (7.32% of the valid vote) and there were 74 spoilt papers.
Council chief executive Ray Harding said: "There has been a high level of interest in this issue and the poll has given people the opportunity to make their views known.
"The turnout shows how strongly the people of West Norfolk feel about the proposals.
Market research
"This result will be made available to Norfolk County Council, the authority that will ultimately make the decision on whether to permit the construction of the incinerator in King's Lynn."
The result will be presented to the Norfolk County Council cabinet next week, when councillors will decide whether to sign a contract with Cory Wheelabrator to build the plant.
Cory Wheelabrator said it had carried out market research by telephone across six other districts of Norfolk and in King's Lynn.
In West Norfolk and King's Lynn they found support for the scheme was at 26% with 63% against.
"This is despite the fact that 42% of people in the borough and 74% in Norfolk overall (including King's Lynn) state that Energy from Waste incineration is their preferred option after recycling," a spokeswoman for Cory Wheelabrator said.
"Therefore the research indicates a complex picture is emerging as might be expected at this stage of the consultation process."
'Vital information'
Cory Wheelabrator said it did not participate in the recent referendum because they believed the question was not neutrally phrased or accurate.
They also thought the poll was being called before the planning and environmental permit consultations had been completed.
"Vital information, such as the third party Environmental Impact Assessment, will be made public in the Spring when the planning and environment permit applications are submitted," the spokeswoman said.
"This will enable the general public to be better informed about the proposals."