MTV success for Norwich rapper Context MC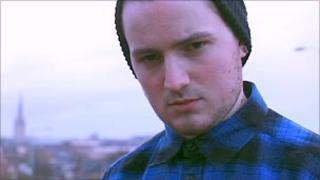 MTV UK bosses have snapped up a video made by a Norwich-based rapper after it became a hit on YouTube.
Context MC's video for Off With Their Heads racked up nearly 16,000 views in a fortnight on the video-sharing network last month.
The promo, which features Suffolk's recent Atlantic Records-signing Ed Sheeran and other local artists, can now be viewed on the MTV website.
"I'm really happy," said Context - whose real name is George Musgrave.
"It was completely unexpected as well because it was only the second video I'd ever made," said the 24-year-old UEA student.
MTV UK e-mailed the unsigned urban artist after it decided to add the home-made video to its music channel playlist.
'Not common'
"I was like, 'Really? Alright then, wicked!'
"Other people who I've spoken to have said it's not a common thing to have happen at all."
The promo was filmed at several locations around Norwich, including a moody opening shot of the cathedral from Silver Road.
"I wanted a shot that had Norwich in it because I wasn't going to just stand out in front of a big block of flats and stand around with all of my mates, because that's not really me," said Context.
"I thought I may as well have something like Norwich Cathedral in it. Some of the other shots are just outside of my house and that."
Guests from the world of music responded to Context's call for people to feature in his video and there was a special slot for up-and-coming musician Ed Sheeran.
"I tweeted him and e-mailed him and he got back to me and said, 'yeah', but he's obviously ridiculously busy at the minute.
"So I just drove over to his studio and met him and his producer and just did it.
"Everyone who I spoke to was just really keen to get involved which was wicked."
The single version of Off With Their Heads, featuring Vertex of Marvell, will appear on Context's EP The Cadmean Victory to be released in the spring.