Collapsed retailer axes 228 jobs but warehouse staff stay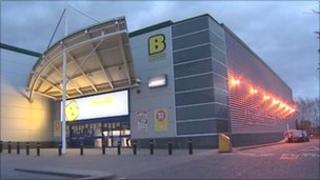 Administrators in charge of a top independent electrical retailer have announced 228 jobs are to be axed.
Norfolk-based firm Bennetts, which employed about 300 staff in 14 stores across the country, has collapsed and called in administrators PKF.
All the shops will remain closed and only 57 staff will be kept on while administrators try to find a buyer.
The firm blamed competition from online retailers and increases in rents for its collapse.
Administrators said there was a chance some or even all of those made redundant could be re-employed later.
The skeleton staff has been retained in stores for stock-taking.
A PKF spokesman said: "We confirm that unfortunately it has been necessary to make 228 members of staff redundant while 57 remain.
"We wish to point out that some or all of those made redundant may return to work if, as anticipated, a purchaser is found for some of all of the business."
Offer to negotiate
PKF is not giving a breakdown of which departments the redundant staff are from but it is understood only managers, drivers and warehouse workers have been kept on.
The PKF spokesman added: "The joint administrators are in positive discussions with a significant number of potential buyers who have come forward and there are more people to contact on Monday."
They hope a deal can be completed within two weeks but PKF is still giving other potential buyers the chance to contact them and start negotiations.
Customers have also been told they may have to wait weeks for any goods they have purchased for delivery.
The firm has major stores in Colchester, Norwich, Martlesham Heath in Suffolk, Bangor and Farnham.