London 2012: Norfolk 'hopes' for Olympic boom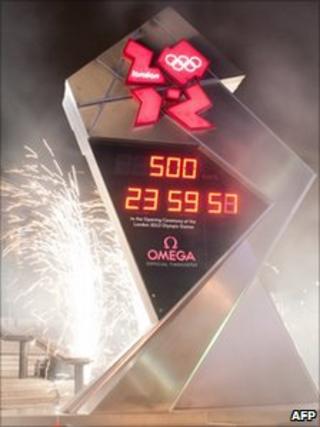 The director of Norfolk Tourism has said she "hopes" London 2012 will mean big business for Norfolk as she outlines plans to attract sports fans.
With only 500 days until the Olympics begin, the group is working on ways to get UK and foreign tourists to stay in Norfolk for the Games.
Lydia Smith said promoting the county's direct rail link to the Olympic Park at Stratford will be key to their success.
"The message we're trying to get over is how close we are," said Ms Smith.
"We're positioned as having the best of both worlds - you can visit the Olympics and you can come and stay in Norfolk.
"It's the closest major holiday destination to the Olympics so we think we're in a good position."
Norwich is currently about a one-and-a-half-hour direct train route from Stratford where the Olympic Park is situated.
King's Lynn is also a similar distance to King's Cross station, where tourists will then be able to take a seven-minute transfer to the Olympic Park via a new high-speed train.
Despite worries from the public that the train system will not be up to the job, Peter Meades from National Express East Anglia believes improvements to the service are well underway to cope with the influx of tourists.
"We're confident that we'll have everything in place as far as the staff we need, the level of train service that's needed to get people there comfortably and also the tickets in advance of the games," he said.
With transport links in place, Norfolk Tourism is targetting both UK and foreign tourists to let them know the benefits of staying in Norfolk for the Olympic and Paralympic Games.
"We're encouraging existing visitors to stay in Norfolk rather than displace to London," she said.
"We're producing a business tool kit at the moment for tourism businesses in Norfolk to give them some pointers as to what they can tell existing visitors - possibly earlier breakfasts so they can catch the train.
"We haven't got a huge amount of money but what we're also doing is working with the Foreign Press Association to host press trips.
"We've got the Broads, we've got Norwich, we've got the royal links. All of that is of real interest to foreign journalists, so we want to raise their awareness of what Norfolk has to offer."
Sheena Hulme from Cromer Pier's Pavilion Theatre said she was feeling positive about the potential effect the Olympics could have on Norfolk, but said she understood the potentially difficult job in hand.
"I think the challenge for us is to get a message to the tourists that are coming in from other countries to say, 'come out from London'," she said.