Norwich war memorial reopened by veteran and soldier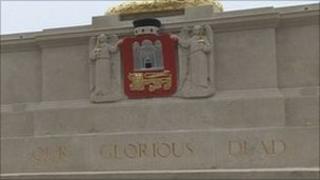 A newly-restored £2.6m war memorial in Norfolk has been officially reopened by a World War ll veteran and a serving soldier.
The gardens in St Peter's Street, Norwich, have been closed since 2004.
A sculpture by artist Paul de Monchaux is a new feature of the war memorial now facing City Hall in line with the long-held wishes of local veterans.
City council leader Steve Morphew said pressure from the veterans helped to bring the whole project to fruition.
"The passion of the veterans and the city in pressing for the work to be done comes together today in a real celebration," he said.
"In a city with such a wealth of heritage buildings this stands proud and the new sculpture rounds it off perfectly.
"This project is a credit to our city and those who have served in whatever capacity," Mr Morphew said.
Hope and survival
The council commissioned the new sculpture and a group, including veterans and the Peace Council, selected award-winning sculptor Paul de Monchaux.
His work includes the Wilfred Owen memorial, the BBC Churchill memorial, and the memorial to World War ll slave workers in Jersey.
The sculpture Breath is made in bronze and is designed to mark the furtherance of peace, hope and survival, the artist said.
Money for the restoration of the war memorial and gardens came from the Homes and Communities Agency, which has already invested £8m in Norwich.