Music expert Chris Cooke to share knowledge in Norwich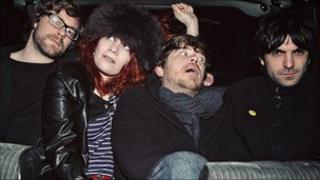 A music expert is leading a one-day course to help give people a stronger grip on the fast-moving industry.
Journalist and lawyer Chris Cooke, who also programmes Brighton's The Great Escape festival, will share his insight at Norwich Arts Centre on 1 April.
A Crash Course in the Music Industry is aimed at people who are in bands, run their own labels and gigs and want to keep up with developments.
Gigs in the main room and the bar will round off the day's activities.
Sargasso Trio, Lowery, Tawny Owl and the Birds of Prey will play the Sound Lounge event, while BBC Introducing in Norfolk is hosting an acoustic showcase with Cakes and Ale, Graham Horne, Milly Hirst and Raevennan Husbandes.
The event has been set up by Clear Talent Media, run by Norwich-based promoter Kingsley Harris and is a taster for autumn's Sound and Vision three-day convention.
Kingsley, who also has his own indie record label NrOne, wanted to bring Chris to Norwich after being impressed by his workshop at Manchester's In The City music showcase.
As publisher of the well-regarded CMU daily news bulletin, Chris is up to date with all areas of the business and Kingsley says he has a wealth of knowledge to tap into.
"When I saw him at In The City with 60 people all crammed into a room listening to him, I thought this guy is really good and he needs to come to Norwich so people across East Anglia can benefit from his advice," said Kingsley.
"He takes the neutral ground and if you ask him a question, he'll tell you both the good and the bad."
People who attend will get information on copyright, licensing, investment and new business models, public relations and using social media.
"The big problem today is when people talk about the music industry it doesn't exist as an entity any more - the rules have changed," said Kingsley.
"Because the industry has changed so much people who want to be involved need to go in armed with the basics."
A Crash Course in the Music Industry runs from 10am to 5pm on Friday 1 April at Norwich Arts Centre. Music starts at 7.30pm and tickets are available separately.