Japan earthquake: Norwich pupils host charity sleepover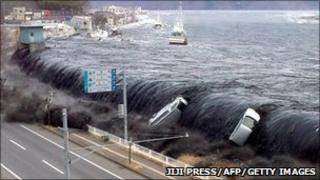 School pupils from Norfolk are raising money for a search and rescue team after being moved by the aftermath of the Japan earthquake.
Students from Open Academy in Norwich will sleep overnight at their school during a 24-hour event.
The sleepover will mimic the plight of many school children in the disaster-stricken country.
Funds raised will go to International Rescue Corps, a specialist urban search and rescue team.
"The pupils desperately want to do something to raise money for the disaster," said science teacher Leila Sepehrara.
After taking part in their normal school day, the pupils, aged 12-13, will spend the night camping in the building's atrium.
"We are planning on holding a number of fun events on the afternoon and evening of the Friday including a quiz, lots of movies, sporting competitions, as well as dinner," said Ms Sepehrara.
Despite the light-hearted approach, there is a serious message behind the sleepover.
"The point of this is to try to make our students appreciate the troubles that people in Japan have had to face with the loss of their homes," said Ms Sepehrara.
"Pupils here are so very passionate about this event and are so excited to be able to raise money for the disasters which have taken place recently."
'I feel sad'
Open Academy in Norwich recently took part in BBC School Report, a day providing an opportunity to learn more about the news media, where they filed a report on the Japan disasters.
Year seven student Robert, whose aunt lives in Chiba, Japan, where an oil refinery caught alight, gave a second-hand account of the aftermath.
"I feel sad because they're in Japan and they had to deal with that sort of thing," said Robert.
"I think they'll recover but it will take a long time," he added.
International Rescue Corps (IRC), based in Grangemouth, is staffed by volunteers who use their specialist skills and equipment to rescue people trapped by natural and man-made disasters.
An IRC team recently deployed to Japan to assist in the aftermath of the earthquake and tsunami which struck on Friday, 11 March 2011, but had to return to the UK after facing logistical difficulties.
A spokesperson said that, "IRC remains available to assist the Japanese people if required in the future."