Ed Sheeran sets record gig run at Norwich Waterfront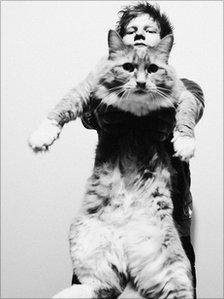 Rising music star Ed Sheeran has become the first ever artist to hold three consecutive gigs at a major venue in Norwich.
A third date at The Waterfront has been added to the Suffolk musician's headline tour after the first two concerts sold out in under four days.
The gigs on 11, 12 and 13 July will coincide with the launch of Sheeran's debut LP release on Atlantic Records.
"It's selling really well which is cool," said Ed.
"My booking agent booked the tour in May and we were going to all these small cities and missing out Norwich and and I was like, 'why are we missing out Norwich?', but he said it's because he wanted three in a row," he added.
The previous record for back-to-back gigs in the city was held by Skunk Anansie who played two nights at The Waterfront in 1999.
It has been a whirlwind 12 months for the 20-year-old acoustic musician and singer-songwriter, who made a name for himself after gigging on the Norwich music circuit.
In the last year he has beaten Take That to the number two spot on the iTunes album chart for his No5 Collaborations EP, supported London rapper Example on a UK tour and appeared on actor Jamie Foxx's radio show in the US.
He has also gained an army of fans through social networking sites, where he has now accumulated 36,000 followers on Twitter and has celebrity devotees including Arsenal and Russia footballer Andrei Arshavin.
The artist last played a sold-out Christmas gig at The Waterfront in 2010, where he also unveiled news of his worldwide record deal.
However, it all very nearly didn't happen for Sheeran who last year was on the verge of packing it in.
"I was going to give up about a year ago. It all kind of imploded and really wasn't going well, so I booked a ticket to LA to do some open mic nights and it all started going well after that.
"It showed me a different side because I'd been doing the same acoustic gigs for years and just been dropped by my old management.
"I didn't really have anything other to do so I was like, 'do you know what, I want to try something different' and went to America and saw how they did it, and that kind of gave me another burst of confidence in England."
It is not just fans from the local area who are snapping up Ed's tickets - devotees from around the country are already paying highly inflated sums of money for his sold-out concerts.
"I have already had fans contacting me from as far away as Portsmouth, London, Staffordshire and Preston to recommend cheap places to stay in Norwich as they have bought tickets for all three nights," said Ed's tour manager David Gray.
His debut album for Atlantic called "+" will be launched at his Norwich gigs, with a London launch also included in his tour.
Related Internet Links
The BBC is not responsible for the content of external sites.