Jury at Emma Ward murder trial hears from her father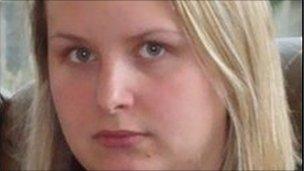 The jury in the trial of a man accused of murdering and dismembering his wife at their home in Norwich has heard from her parents.
Nicky Ward, 29, of Manor Cottage, Rockland St Peter, denies killing Emma Ward. No body has been found.
Mrs Ward's father, David Noonan, told Norwich Crown Court he last saw her on 23 March 2010 and grew concerned when he tried to contact her and failed.
Mr Noonan said Mr Ward told him she had left him and he was upset.
Norwich Crown Court also heard from Mrs Ward's mother, Elaine Noonan.
Jurors were told how Mrs Ward met Mr Ward in 2006 when she was 18 years old and within weeks had started living with him at his parents' home in Essex.
In the summer of 2009 they split up for a time and Mrs Ward, who was a barmaid, had an affair with a chef she worked with.
Mr Noonan said he had helped his daughter move into a house in Rockland St Peter near Norwich and eventually realised Mr Ward had moved in.
Jurors have heard that forensic evidence revealed Mrs Ward had been killed by her husband at their home between April and June 2010.
The prosecution said traces of her remains were found inside an electric saw bought by her husband at a local hardware store shortly after she vanished.
Blood-smeared scratches made by the saw were found in the bath, and bloodstains were found in the bedroom, landing, on a picture frame and a pillowcase in a drawer.
Her passport, driving licence and birth certificate were discovered in bin bags.
Police began an investigation in May 2010 - after Mrs Ward was reported missing - and visited the Wards' cottage.
Related Internet Links
The BBC is not responsible for the content of external sites.