Solar power boost for 1,000 south Norfolk homes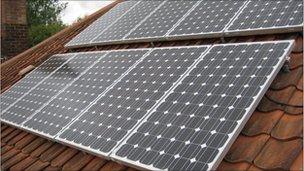 A Norfolk housing association is investing more than £7m in solar-powered energy for 1,000 of its 4,600 homes.
Saffron Housing Trust will install photo-voltaic (PV) panels on the roofs of the properties in south Norfolk.
The association estimates tenants with an average electricity bill could save £125 a year.
Not all homes will be eligible and one of the main criteria for the free solar panels will be a south facing property.
The roofs also have to be big enough to take a number of panels, have the right slope and not be shaded by large trees or other buildings.
Saffron will take advantage of the government's Feed-in tariff scheme which encourages investment in low carbon electricity in return for guaranteed payment for the electricity generated and exported.
Related Internet Links
The BBC is not responsible for the content of external sites.