King's Lynn students in Olympic sports trip to China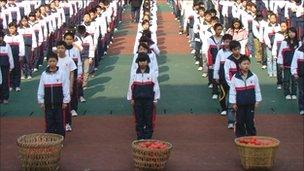 A group of students from Norfolk is getting set for the London 2012 Olympics with a trip to China to teach sporting activities.
More than 20 pupils from King Edward VII School in King's Lynn will visit the Beijing stadium, host of the 2008 games, as part of the project.
The team will fly nearly 6,000 miles on Friday to help promote sports well established in the UK, including cricket, hockey and rugby.
Pupils will spend eight days there.
As well as their visit to Beijing, the teenagers will go to Shanghai and their partner school Tsinghua High in Chongqing, where they will run a sports festival.
With preparations for the London 2012 Olympic Games gathering pace, the students are excited about their trip to the previous host city.
"It's going to be amazing as it's in London in 2012, so to be able to compare the two together will be really good," said Lucy, a pupil from King Edward VII.
The specialist sports school has run previous trips to Chongqing and the students are keen to continue to inspire Chinese teenagers to try sports popular in Britain.
"I don't think many of them know what hockey is, so it will be good to teach them the basic things to do," said Lucy.
Ahead of the visit, some of the pupils have been taught the language by two Chongqing teachers, who are on placements at King Edward VII's regional Mandarin Chinese centre.
Earlier in the week another school group travelled to America to run a similar sports festival for students near Boston.
Related Internet Links
The BBC is not responsible for the content of external sites.