Husband in murder trial admits killing wife Emma Ward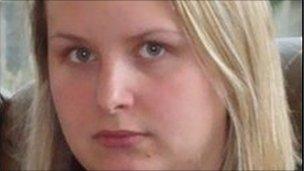 A man on trial for murdering and dismembering his wife at their Norfolk home has admitted killing her.
But Nicky Ward, 29, of Rockland St Peter, near Norwich, denies murdering Emma Ward, 22, last year - claiming he has no memory of the incident.
Mr Ward told Norwich Crown Court: "I do accept she died at my hands."
He said he could not remember the disposal of the body due to memory loss problems. "I didn't intend to kill her," he told the court on Friday.
Mr Ward said he believed his wife had died as a result of an accident, but said he had no memory of it happening or cutting up her body.
On Thursday, forensic expert Hazel Johnson said blood, hair and body matter that matched the DNA profile of Emma Ward had been found throughout the house.
She said there had been "significant and life-threatening blood loss".
Evidence was found of blood pooled in bedroom carpet underlay.
Traces of Mrs Ward's blood were found in the bathroom where the prosecution allege her body was dismembered.
There were also traces of Mrs Ward's bone and blood in an electric saw.
Mrs Ward's body has not been found.
Related Internet Links
The BBC is not responsible for the content of external sites.