Kit Downes returns to Norwich for a rare city gig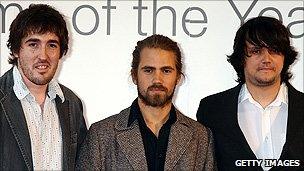 A 24-year-old jazz musician from Norwich who was nominated for the 2010 Mercury Prize has been back to play in the city.
Kit Downes returned to front his first headline gig in his home city since making the shortlist.
The pianist, who is leading a band on a European tour to promote his trio's second album, called into Norwich Arts Centre on Wednesday.
"It's great to be back. We've played a lot of places," said Kit.
"It's nice to come back somewhere familiar," he said.
The former Norwich Cathedral choirboy's profile was boosted when the Kit Downes Trio made it through to the finals of the Mercury Prize alongside Dizzee Rascal, Paul Weller and the eventual winners The xx.
Kit, who now lives in London, attended Norwich School before going on to meet his band members Calum Gourlay and James Maddren while studying at the Royal College of Music.
Last month, the trio released their latest long-player called Quiet Tiger, with its title inspired by Kit's love of cats and wildlife documentaries.
The studio-based album has taken a different direction from their first Mercury Prize nominated album Golden, which was recorded in one live take.
Kit said that although Quiet Tiger runs for 66 minutes it is unusually compact given its genre.
With the album now finished, the band has been on the road for three-and-a-half weeks touring Austria, Germany and Britain.
The group particularly enjoyed playing to continental audiences.
"There's a very open attitude to music and people are happy to go to things that they haven't heard of before and try and get into it," said Kit.
While Kit's diary is busy with more gig plans and song-writing, he said his trip to play in the city and see his parents has been a chance to relax too.
"I don't play in Norwich too often so it's been a bit of treat for me.
"It's good to go walk by the beach and stuff like that."
Related Internet Links
The BBC is not responsible for the content of external sites.