'Many prisoners' refuse to complete census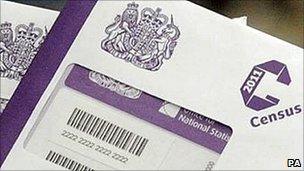 A "significant number" of prisoners are reported to have refused or not bothered to complete the latest census form, the BBC can reveal.
According to prison sources in the East of England, a "good calculated guess" puts the figure at about 15%.
A prison officer said many inmates have refused to return completed 2011 census forms at prisons such as HMP Norwich and HMP Littlehey in Cambridgeshire.
The Home Office said inmates had a legal requirement to complete the form.
A prison officer told the BBC many prisoners were seen screwing the paperwork up and throwing it in the bin.
Anyone who repeatedly refuses to take part in the population count could face criminal prosecution and a £1,000 fine.
The Home Office said: "If a prisoner refuses to complete the questionnaire... the governor should note on a record that the questionnaire has been issued and that the prisoner has refused to complete it.
"This information must be given to the Census Coordinator when he/she returns to collect the completed questionnaires."
A spokesman for the Office for National Statistics said: "The process is exactly the same for everybody.
"If someone persistently refuses to complete the form we will offer them a replacement... if they continue to resist any encouragement their names will be passed to our compliance team... and ultimately to the Crown Prosecution Service".
While "non compliance" officers are authorised to conduct interviews under caution during home visits across the country, the issue of prisoners' non compliance is not so clear.
One prison officer told the BBC: "There has been a strong display of defiance. On one wing of over 70 prisoners, 12 refused to hand them back.
"Once we gave out the census forms which arrived in bulk, I don't think you can tell who has handed them back of not, I don't see how the forms can be traced.
"The movement of prisoners around the system adds to the complications. It's a mess. It wasn't properly planned."
Ralph Valerio, a spokesman for the Prison Officers Association, told the BBC: "The census is about measuring society.
"Most prisoners don't care about society that's why they are where they are and it comes as no surprise that some are treating this with disdain."