Norfolk electric saw murderer jailed for life for wife killing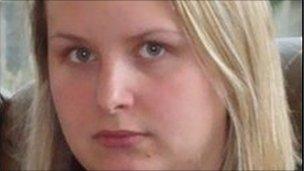 A man has been jailed for life for murdering his wife and dismembering her body at their Norfolk home.
Nicky Ward, 29, told Norwich Crown Court he accepted Emma Ward, 22, "died at my hands" - but claimed he had no memory of the killing last year.
Traces of her bone and blood were found in an electric saw bought by Ward at a local hardware store shortly after she vanished. Her body has not been found.
Ward, of Rockland St Peter, near Norwich, must serve at least 22 years.
Judge Peter Jacobs said the amount of blood found suggested that Ward had attacked his wife with a "sharp instrument".
"What happened after that was truly dreadful," he said. "You embarked upon a cynical and cruel effort to cover your tracks."
Ward, who denied murder, told jurors that, while accepting he killed his wife, he believed it had been an accident.
He said he had no memory of it happening or cutting up the body.
Forensic expert Hazel Johnson told the court that blood, hair and body matter that matched the DNA profile of Mrs Ward had been found throughout the house.
Traces of her blood were found in the bathroom where the prosecution alleged her body was dismembered.
Blood-smeared scratches made by the saw were found in the bath, and bloodstains were found in the bedroom, landing, on a picture frame and a pillowcase in a drawer.
Pc Peter Warby told the court he had called at the home of the Wards in May 2010 after friends and family expressed concern for Mrs Ward's safety.
Mr Ward had repeatedly told them she was either out or unavailable and he told Pc Warby his wife had left him some weeks before.
After further questioning he said the last time he had seen her had been before she went out for the night in Norwich.
He said he believed she had returned, packed a bag and some shoes, and left.
He also spoke of a note he had found which said: "I've found a real man, you can rot in hell."
When Pc Warby asked to see the letter he was told it had been thrown away.
Mrs Ward's passport, driving licence and birth certificate were later discovered in bin bags.
Related Internet Links
The BBC is not responsible for the content of external sites.