Ben Youngs' family offers to 'gift' land to Aylsham FC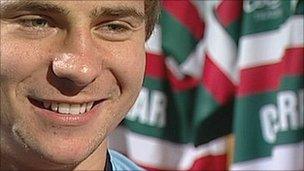 The family of an England rugby star is hoping to improve sports facilities in a north Norfolk town.
The father and uncle of 21-year-old Leicester Tigers scrum half Ben Youngs have offered to "gift" 20 acres (0.08 sq km) of land to Aylsham Football Club, which has outgrown its home.
Other organisations including St Giles Cricket Club would also use the land.
Broadland Council should announce its decision on the plans in the next few weeks.
The council's decision will depend on an application for 250 homes also going through.
Aylsham FC runs 17 teams including five ladies' and girls' squads.
Proposed changes include a clubhouse, more changing rooms and floodlights.
"We're a family who absolutely loves sport - it's in the blood," said the Leicester Tigers star.
"I'm a local lad and we want to give something back.
"There are opportunities for so many people here but sometimes the facilities don't help them.
"It's about helping everyone whether they want to pick up a cricket ball, a football or rugby ball."
Ian Potter, chairman of Aylsham FC, believes the extra land would be beneficial to local sports fans and hopes people can get behind the planning bid.
"We're expanding quite quickly so we're really looking for a facility for the future.
"There are a number of other groups who would like to use the facilities in the evenings and weekends and it will only work if it's used by the whole community."
Related Internet Links
The BBC is not responsible for the content of external sites.