Peregrine falcons in Norwich unlikely to breed in 2011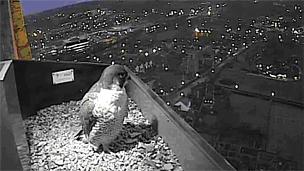 Hopes for peregrine falcon chicks in Norwich have been dashed after the female was ousted by a younger bird.
A pair of falcons settled on the cathedral after a specially-made platform was installed seven weeks ago.
It was hoped the peregrine falcons would become just the second duo to breed in Norfolk in 200 years.
The birds have been seen mating but Hawk and Owl Trust staff, who have been monitoring them, believe the female is too young to breed successfully.
Nigel Middleton, from the trust, which built the birds' roost, said: "Unfortunately for us we were getting very excited thinking we were going to have chicks this year but because of her age she probably won't lay eggs this year and if she does they will probably be infertile."
The young female arrived three weeks ago taking over from the adult, who hasn't been seen since, and paired up with the male.
Activity on the ledge is followed 24 hours a day by two webcams and led to the recent arrival, who still has her juvenile brown plummage, being seen.
The female has been spotted scraping the platform, indicating that she could be ready to lay eggs although they are unlikely to hatch.
The male peregrine falcon has been spotted soaring around the spire for the past two to three years.
It has taken a while for the peregrines to settle as they did not take to their first home of a box.
Following negotiations on a new design with the cathedral, a 250ft-high ledge was put in place by volunteers from Norfolk Fire and Rescue Service.
"There was no natural ledge site at a nice height on the cathedral for them to nest and roost," said Mr Middleton, who works at the trust's Sculthorpe Moore Nature Reserve, near Fakenham.
"We put the platform up and within a week the male checked it out and the female turned up and away we went."
Peregrine falcon numbers rapidly declined in the 19th and 20th Centuries due to illegal shooting and use of certain pesticides on farms.
The first permanent recording of a breeding pair in Norfolk for hundreds of years happened last year at a granary site in north King's Lynn.
A watchpoint for visitors will be set up by the Hawk and Owl Trust at the cathedral on Easter Saturday and Monday.
Related Internet Links
The BBC is not responsible for the content of external sites.