BBC Music Video Festival 2011 open for entries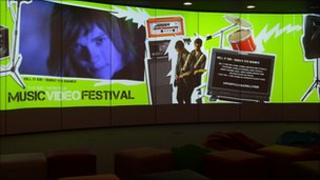 The video vault for this year's BBC Music Video Festival has opened, with entries from bands being sought from across the country.
The festival is the only one of its kind in the UK and will showcase the work of new and emerging acts from 19 September to 1 October.
The talents of selected musicians and film-makers will be shown on Europe's biggest permanent HD screen at The Forum in Norwich.
Submissions are invited until 1 August.
Alongside the free daily music video presentation, top speakers will visit the city to deliver some inspiring masterclasses.
BBC Music Video Festival application form
[60kb]
Jamie Thraves who has made promos for world-class acts including Radiohead, Coldplay, Blur and Corinne Bailey Rae will talk about his career and share some of his favourite videos.
Jamal Edwards - the 19-year-old founder of the UK's biggest youth media channel SBTV which has been instrumental in Ed Sheeran's growing popularity - is also heading east to give an insight into his creations.
It's the third year the festival has run, with 2010's event featuring ambitious videos from Slow Club, The Twilight Sad and The Wave Pictures, who are all gaining national prominence in 2011.
The BBC Music Video Festival is being put together by the team behind BBC Introducing in Norfolk and will complement the city's second music and film media conference Norwich Sound and Vision.
The aim is to get as many up-and-coming acts as possible on the big screen, covering all areas and genres.
For those who prefer snapping away on a camera, photography exhibition Music: In Focus, run in partnership with Outline Magazine, is now open for submissions. Chosen photos will go on display during the festival.
If you have a video you would like to enter - made from September 2010 onwards - download the application form on this page.