Norfolk broadband plan backed by business leaders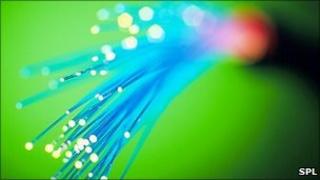 Business leaders in Norfolk are backing a county council bid for investment in broadband infrastructure.
Companies say they are unable to grow until the service is improved.
Clarke Willis, chief executive of Anglia Farmers, said: "Broadband isn't just a toy... it's a very important business tool."
Norfolk County Council is bidding for a share of £530m that the government has pledged to improve connectivity speed.
'Being frustrated'
David Dukes, economic development manager for Norfolk County Council, said: "There are literally thousands of businesses in rural areas that are telling us they're losing customers, are not able to win work and not able to expand.
"Their operations are being frustrated because of the lack of broadband," he added.
Money has been made available through Broadband Delivery UK, an agency of the government's Department for Business, Innovation and Skills, which states that all homes should have access to a minimum level of service of 2MB per second by 2015.
Norfolk County Council believes if its bid for investment gets the go ahead, the county will experience an economic upturn.
Mr Dukes said: "We've done some work which suggests that with the investment from the bid that we're making, we could see an uplift of around 1,300 additional jobs and those will mainly be in the rural areas.
"The key thing is about business survivability. If these investments aren't made then businesses will move away and we could be looking at job losses," he added.
'Inhibiting businesses'
Anglia Farmers is a co-operative buying group representing about 2,500 farms and rural businesses in East Anglia.
It relies on the internet to relay information about accounts and says that the slow broadband speed of some of its rural members is hampering efficiency.
Mr Willis said: "In quite a number of cases their broadband speed is less than 1MB and in one or two cases, they can't get broadband at all.
"We've got the same issues around mobile phone coverage and it really is inhibiting businesses to be grown and developed," he added.
Norfolk County Council is bidding against 24 other local authorities and in the first round of funding that will be announced at the end of May, it is thought no more than five bids will be successful, sharing in about £50m.
In total the government has earmarked £530m of public money to be spent on bringing super-fast broadband to rural areas, to be awarded in phases over the course of the current parliament.
This money is drawn from the BBC licence fee and was originally earmarked to help people with the switch over to digital TV.