UEA to charge £9,000 maximum fee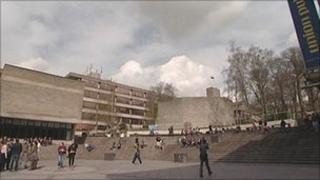 The University of East Anglia (UEA), based in Norwich, is planning to charge students the maximum £9,000 yearly tuition fee from 2012, it has said.
In making the announcement, the UEA stressed about a third of students starting at the university will benefit from some form of financial support.
The university added that it is aiming to offer a comprehensive package of scholarships and targeted bursaries.
Students with a lower household income will receive up to £3,000 per year.
Scholarships
In addition there will be a range of scholarships, including Excellence Scholarships of £1,500 for students who achieve three A grades at A level or equivalent qualification.
The Vice-Chancellor Professor Edward Acton said it was essential for the university both to protect and enhance this quality.
"We must continue our investment in world class academics to maintain small class sizes and provide excellent teaching," he said.
"We wish to continue to invest in state-of-the-art teaching facilities and our outstanding student support services.
"We are particularly keen to focus additional resource on the employability of our graduates."
Universities have to submit their plans for fees for 2012 to the Office for Fair Access.
So far, at least two thirds of England's universities want to charge the maximum fees for some or all of their courses from 2012, a BBC survey suggests.