Norwich job service opens at the Forum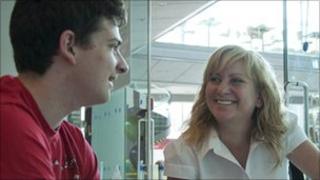 An employment service for disadvantaged young people has moved to the centre of Norwich.
Mint is run by City College Norwich and is switching its office from the campus to the Forum to try to reach more people.
The free service for 16 to 25 year olds aims to help people get paid jobs.
"We have a team of key workers who work individually with young people and help them get ready for employment," said project manager Lee Robinson.
Support in workplace
"We help young people who have got some kind of barrier to work - that could be a learning difficulty, a disability, mental health problem, low confidence or low self-esteem."
The organisation, funded by the government's Skills Funding Agency, now has more than 50 people on its books and is developing links with a growing number of employers.
Mint's key workers individually assist job seekers to get them ready for employment by coaching them on CV preparation, interviews, communication skills, independent travel and workplace etiquette.
Young people who find work through the service are then given eight weeks' support in the workplace.
Job coaches learn the tasks involved in the employee's new role, then explain it to them through innovative methods, such as using pictures with those who may find written instructions difficult to interpret.
John, 21, who can only be referred to by his first name, now works for Mint as a site maintenance assistant after being trained by the service, which began in August 2010.
"I was in hospital for a long period of time and Lee helped me get back into society by improving my confidence skills by working with people and interacting with people," he said.
The service is open to all young people who are facing obstacles to finding paid work and looking for a chance to flourish.
"A lot of young people we work with just need that opportunity to access paid work," said Mr Robinson.
"We're trying to get employers on board who are willing to work with young people and give them that chance because they are very, very capable at work, they just need those opportunities to prove themselves really and that's what we're looking for."