King's Lynn Red Mount back on Walsingham pilgrim trail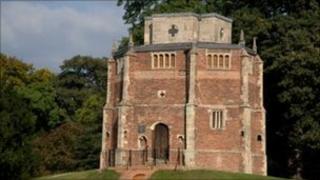 A medieval chapel in King's Lynn has opened its doors to Easter pilgrims in north Norfolk.
Red Mount Chapel, built in 1485, was originally a meeting place for pilgrims across Europe travelling to Walsingham.
The landmark stopped featuring on the pilgrimage route to the Shrine of Our Lady of Walsingham several years ago due to dilapidation.
But visitors have now been invited back following the extensive refurbishment of the chapel and the surrounding park.
Edith Reeves, secretary of the Friends of the Walks, said: "We were given £4.5m by the lottery fund to refurbish the famous Walks and to repair and tidy up the Red Mount, and it really is a gem. It's a unique chapel and there's not another one like it in the whole of Europe."
"The Friends of The Walks got together and thought why don't we let the pilgrims know it's been done up - and it's all safe to go in and perhaps they'd like to come back on their walks at Easter."
'Thrilled to bits'
Two 30-strong groups from the Student Cross pilgrimage, walking from Nottinghamshire and Leicestershire carrying wooden crosses, arrived at the Red Mount Chapel on Wednesday and said they were delighted to be able to visit again for the first time in years.
"Some people in the groups remembered stopping off a long time ago," said Miss Reeves.
"They were thrilled to bits and very grateful that they could get in and see the chapel."
The Friends of the Walks said it now hoped pilgrims would make it a regular stop on their passage to Walsingham.
Red Mount Chapel will open to the public every Wednesday and Saturday from May to September and also every Sunday in July and August.