Miles Hunt and Erica Nockalls back Norwich music cause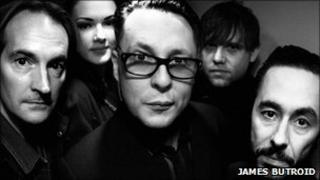 Members of a 1990s' chart-topping band are headlining a gig set up by a Norwich musician to launch a project for people with learning difficulties.
Miles Hunt and Erica Nockalls from cult indie outfit The Wonder Stuff will perform at The Brickmakers in Norwich on 26 April.
The acoustic gig will also feature organiser Matt Watson's band Fugitive Painters.
The event will help kickstart Matt's new music project called Soundwaves.
"Soundwaves is for people with learning difficulties so the night is to raise some money to get the project up and running and get some more instruments," said Matt.
The cause is a crossover of interests for Matt, who is a full-time support worker for people with learning difficulties and used to front popular city indie-rock band Huck.
"We did a gig with Miles when we were in Huck and stayed in touch with him so we booked him for this gig," said Matt.
Miles, who fronts The Wonder Stuff, will perform new solo tracks alongside acoustic arrangements of some of the group's anthemic hits like Size of a Cow and Dizzy, with violinist Erica.
Matt is launching Soundwaves with his partner Claire Read, who was also a support worker until a recent back injury and a member of Fugitive Painters.
"We want to give people access to music who can't readily access it," said Claire.
"The likes of Matt and I can go into a shop and try out any kind of musical instrument we want but a lot of the guys can't so it's the idea of giving them a drum kit to try, giving them a guitar.
The pair hope the venture will help people across a range of ages and with disabilities from autism to severe dyslexia.
"Learning the drums, for example, is a great way of encouraging co-ordination and it's a fantastic chance for these people with all these difficulties to get activated," said Claire.
Gorleston band Dumbfoundus complete the night's bill at the Sprowston Road venue.