Thousands watch Royal Romance spoof YouTube hit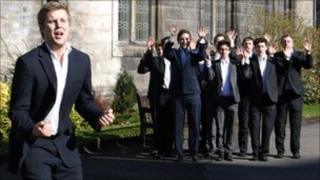 A student from Norfolk has said he is "overwhelmed" by the success of a spoof music video he helped make about Prince William and Kate Middleton.
Ollie Boesen, from Great Ryburgh, directed and edited a reworking of Lady Gaga's Bad Romance.
He also stars in the "Royal Romance" video as part of a capella choir The Other Guys, formed at St Andrews University, where the royal couple met.
The video has now had nearly 250,000 hits on YouTube.
The 11-strong group's performance, in which they are seen chasing around the university town after a Kate Middleton look-a-like, has achieved the thousands of views on the video-sharing site in eight days.
"We've been overwhelmed by how it's been received," said Mr Boesen, 22, a history undergraduate at the university.
"There's a lot of affection here at St Andrews for the royal couple and it was a bit of good-natured fun."
The former Gresham's School pupil said he was encouraged to make the video after travelling around America to produce a documentary on 1960s folk music for his dissertation.
At one point in the video Mr Boesen is seen being pushed into the North Sea by Kate Middleton's character, who is played by friend and first-year St Andrews student Francesca Heartfield.
"The resemblance to Kate Middleton is quite striking and when she heard she could push me into the sea she was quite keen to do it," he said.
Mr Boesen, a fourth year student, said his finals were just a month away but said he was trying to juggle his studies with the attention the video has brought, including interest from US TV networks.
"I'm trying to take one day at time and I just want to get through my course," he said.
"However, I don't want to let any good opportunities go by."